LETTERS TO HOME
by Lt. Larry Hallstrom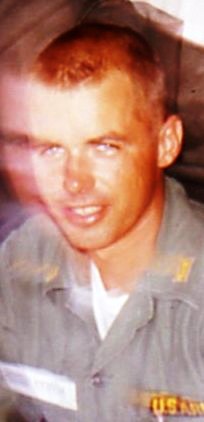 RUMORS, PREPARATION AND CRUISING


In June of 1965 the 70th Engineer Battalion became aware that we would be shipped out somewhere in the Pacific area. The destination was classified. I was appointed Movement Control Officer to coordinate our Company in preparation for our deployment. We loaded the equipment on railcars, and when several of them collapsed with our heavy equipment, we went off post and flagged down any and all flatbed trucks so that we could get them moved to Mobile, Alabama for shipment to places unknown to us.

The following are transcripts of letters I wrote to my parents, who happened to be living in Mobile, Alabama.

27 June 1965
…my unit is hot again. We spent the last three weeks in the field [Ft. Campbell]. The first one we built bridges across the Cumberland River, a ferry, and small foot bridges, one of them was a foot suspension bridge…
…about last Monday I got word that the 70th Engr Bn had been alerted again. This time there seems to be some indication that we will actually move out. It looks now like we have been nominated to overseas duty in the Pacific area sometime within the next two months. The Pacific area includes anywhere from Hawaii to Okinawa to Vietnam…
I do not know what lies ahead, but if it has anything to do with speeding up a conclusion to the fighting in Viet Nam, I want to be a part of it. Hugh Savage has been transferred to the 70th also, so he will be going also. We have a fine group of officers and enlisted men in the battalion and I am sure we will do a fine job wherever we may go…
Our job would be to construct airfields and roads primarily…

21 July 1965
Well yesterday we started moving the equipment out of here. We loaded 17 commercial flat bed trucks with our vehicles and sent them on their way to Mobile, Alabama. Today we will load about 50 more trucks and load railcars also. We are hoping that by this weekend all our equipment will be gone…
The way it looks now, we will leave the first week of August. Needless to say we received our orders last week for a permanent change of station.
I have been pretty busy. I am the company's Movement Control Officer, which means I'm responsible for the preparation of the equipment for loading and the loading itself…

12 August 1965
I decided to start writing you in the form of a diary, as that seems to be the only way I can recapitulate everything without leaving anything out. I will start with the day we left San Francisco. [We loaded onto the troop transport ship USS Mann]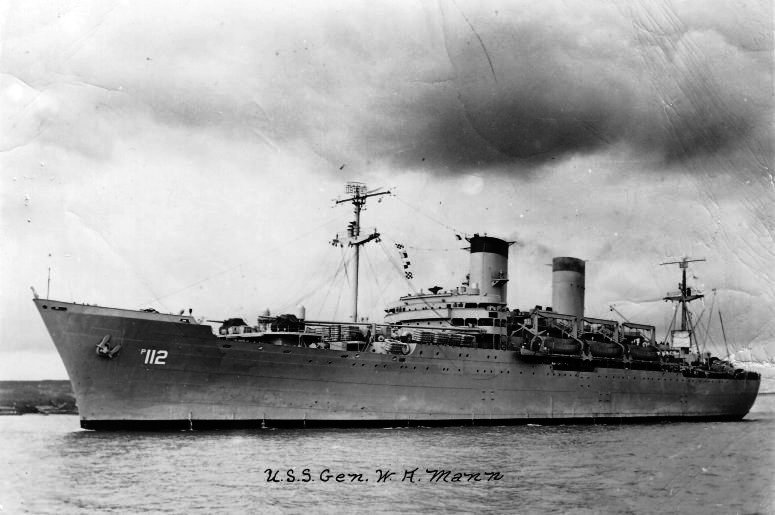 OUR SHIP... THE USS GENERAL WILLIAM A MANN

5 August 1965
We left the pier at 3:00 pm and began our long trip. On the way out of the Bay, there was much picture taking by all. We went under the double-deck Oakland – San Francisco Bridge…The next attraction was the island in the middle of the Bay known as Alcatraz. It was empty, but I took a couple of pictures of it. I then had someone take a picture of me on the upper deck as we were leaving, with San Francisco in the background. As usual the city had a haze all around it, and the Golden Gate Bridge was covered with clouds, smog, fog or whatever it is. I attempted to take some pictures of it; let me know how they turn out.
Next we hit the ocean. The waters just off the West Coast are quite choppy. Almost at once we began rolling and tossing. That night I was rocked to sleep. We gained one hour in time.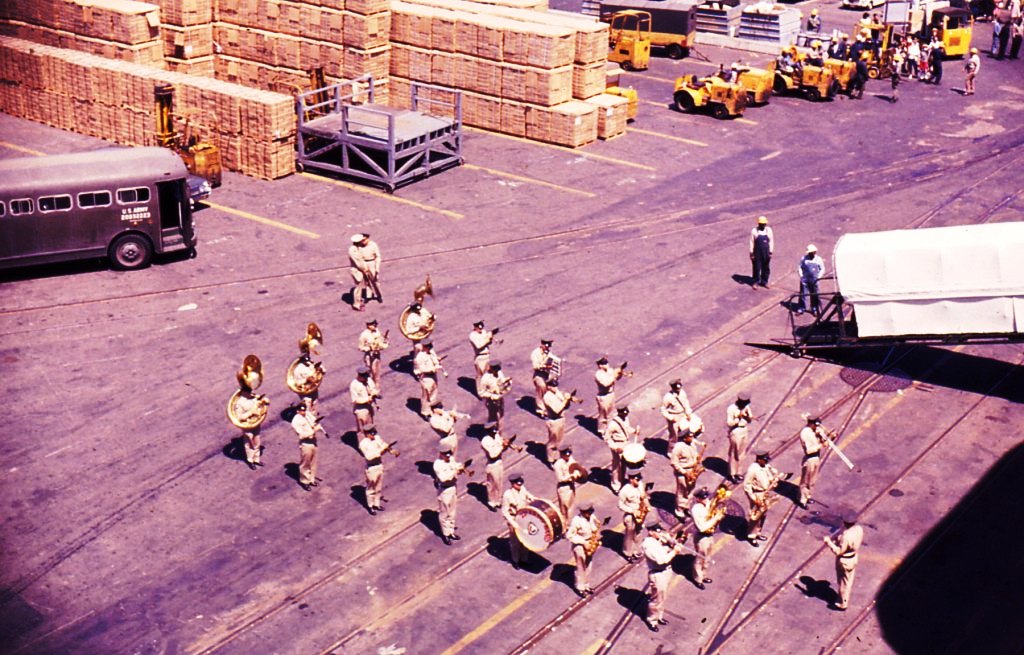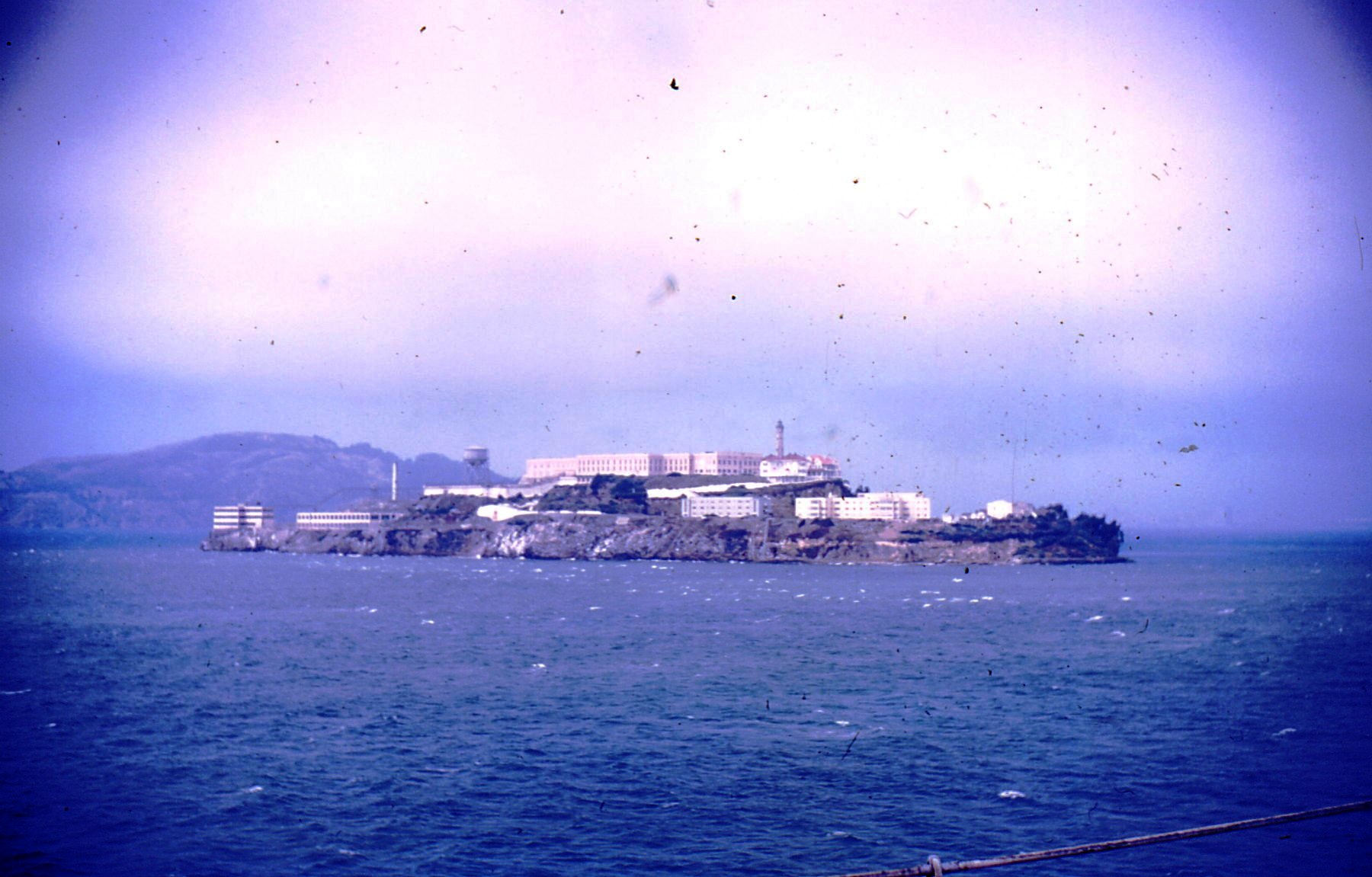 THE BAND PLAYS FAREWELL ALCATRAZ ISLAND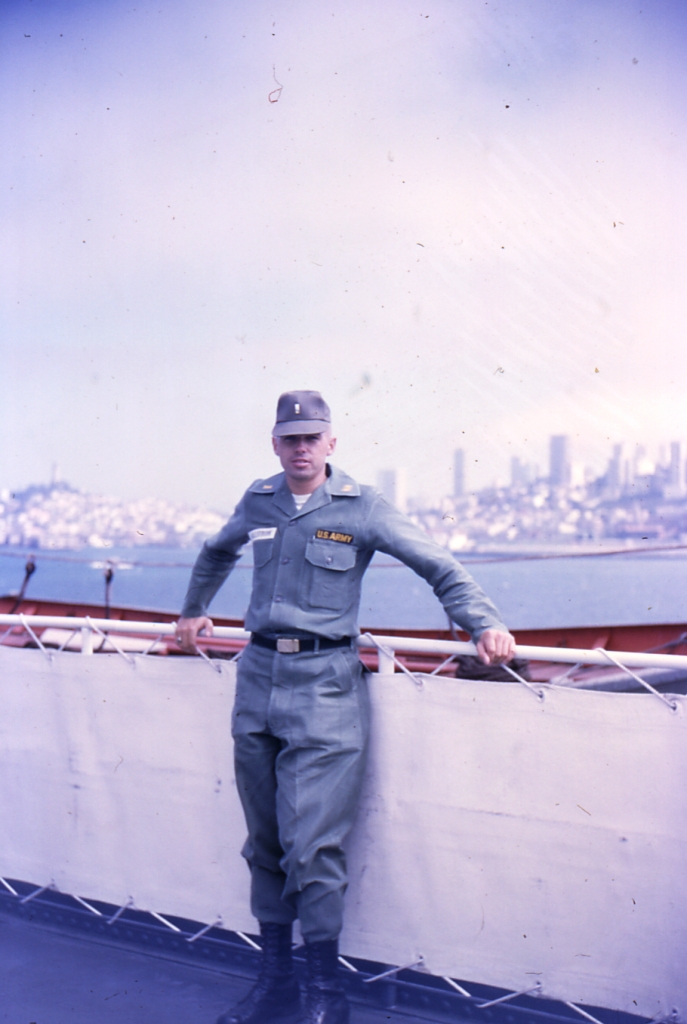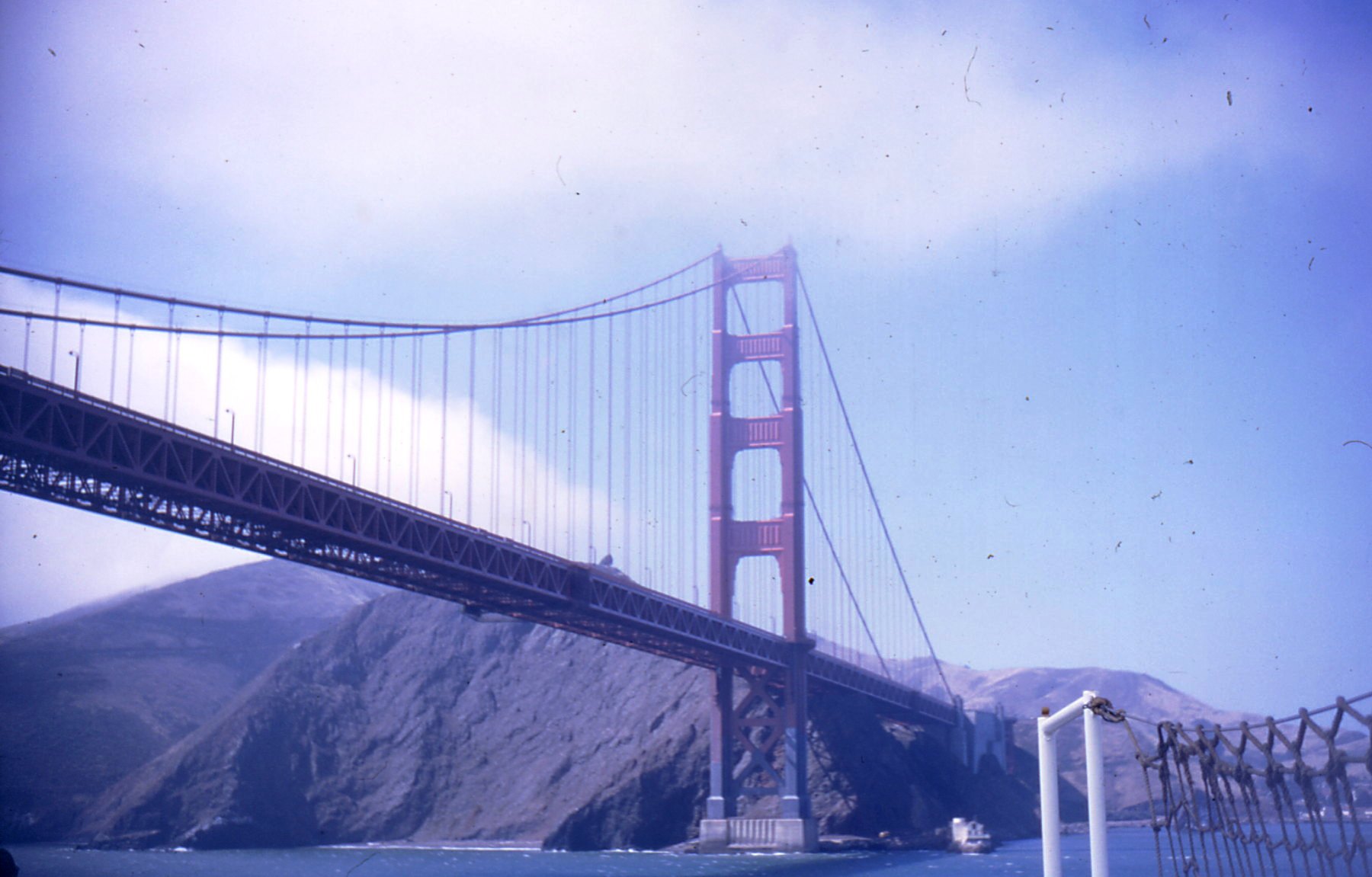 HALLSTROM ON UPPER DECK GOLDEN GATE BRIDGE



6 August 1965 Friday
Up at 7:00 am to eat. The water has calmed down considerably. Everyone began reading or playing cards or both…By evening it began to get rough again, and I began to get a headache. Went to sleep with one. We gained another hour. Now 3 hours from CST.

7 August 1965 Saturday
After breakfast, began PT. It really felt good. Twenty two times around the top deck is a mile. I managed to do it. Troops using too much water, so showers were cut down to every other day. Continued to read (The Sea Around Us, by Rachel Carlson) and play bridge. I thought the book rather appropriate. We gained only ½ hour. Now 3 ½ hours difference.

8 August Sunday
Went to church services today, held by the ship's Chaplain. His topic was the need for a world reawaking towards religion…Continued to eat, sleep and play cards and do PT. Gained another hour. These 25 hour days are beginning to kill me. Too much sleep. I thought I would never be able to say that…

9 August Monday
Entered a duplicate bridge tournament with John Coggin, another Lt in my company. We had not played much together, but we came out third out of ten partners…First place won $10. We continued to eat well, sleep well, and gain time. Another 25 hour day. For the past two days the water was quite calm. Headache is gone after two solid days. Never got sick, although several other people did. Our route was finally announced. We are heading NNW up toward the Aleutian Islands in Alaska. We are passing about 500 miles from them…Our first stop will be the Philippines. The route will come down east of Japan and directly to the Philippines.

10 August Tuesday
The APO address was finally announced: 96238…
We continue to chug along. I've never seen so much water. Another excellent day for boating. Had our first rains last night. It has been real fine weather, a pleasant 80-85, low humidity, and brisk breezes. Sunned on the top deck for 1 hour, and about burned my face up. Ran another mile and did PT. Gained another hour, a total difference now of 6 ½ hours from your time.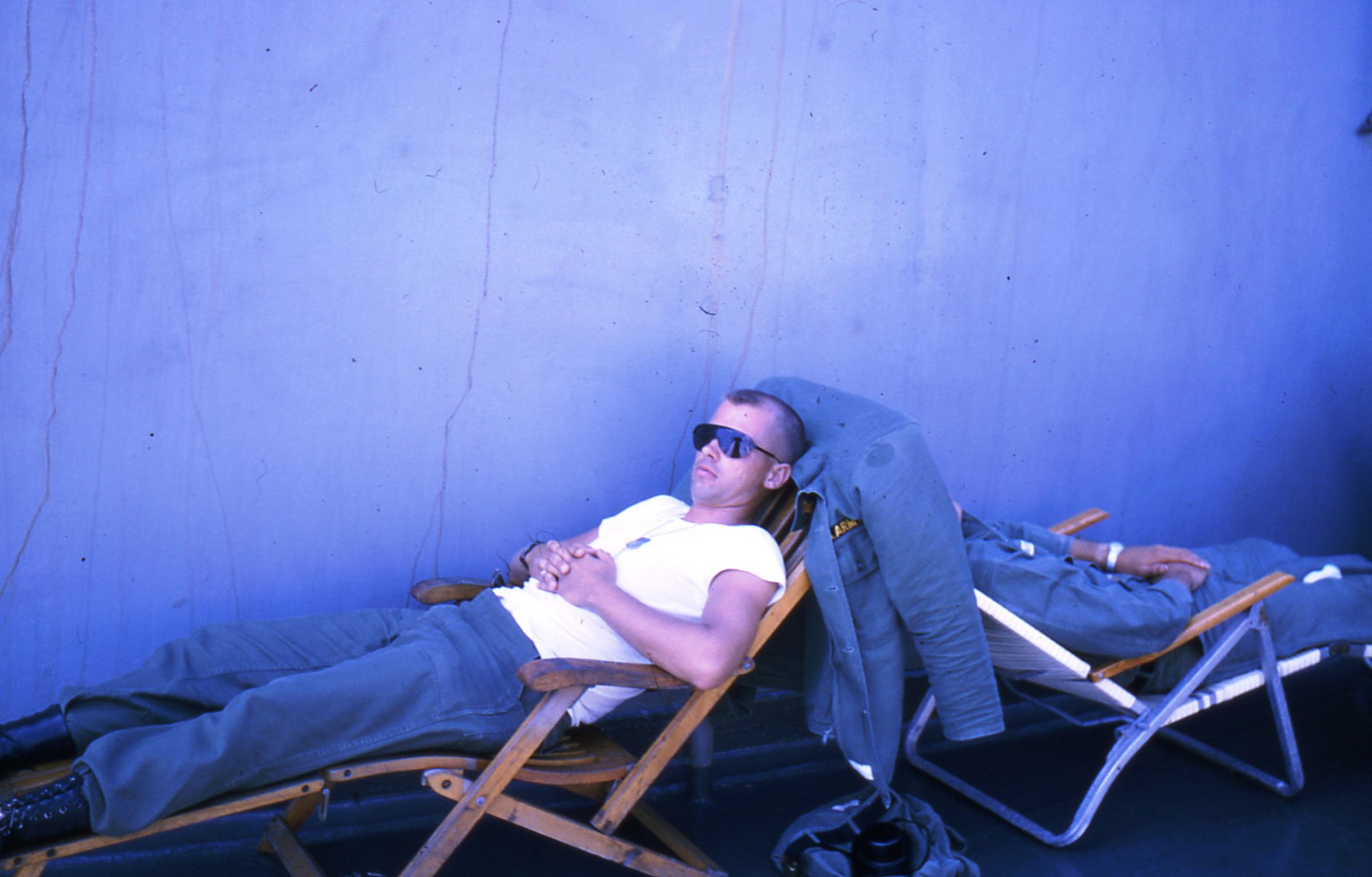 SUNNING ON THE TOP DECK


11 August 65 Wednesday
We received the news that Congress has just about finished passage of the new pay raise bill. Naturally, everyone was quite pleased about that…President Johnson had better sign it now, or he will lose an awful lot of military votes. It was announced that as of 8:00 am this morning we are 2210 miles from San Francisco and 4113 miles from Subic Bay in the Phillipines. That is a lot of water. Gained another hour, for a total of 7 ½ hours.

12 August Thursday
I finally caught up on writing these few pages. I hope to keep up daily from here on in. Incidentally, tomorrow is Saturday. We skip Friday the 13th completely, except for 1 hour, because we cross the International Date Line. As of yet, I have not figured out how much time difference there is. It is too confusing! For supper we had an International buffet, with food from all over the world…I am playing housewife now. I had to wash and iron my fatigues today. What fun! No burnt spots yet. We set our watches back another half hour. Now it is 7 hours, I think.

13 August 1965 Fri
This day was non-existent for us, except for one hour. Big deal!

14 August 1965 Sat
The weather continued to be excellent. The Ocean is as calm as the Chesapeake Bay early in the morning. Everyone has acquired their sea-legs by now, and hardly notice the ship's rolling. I finally saw some fish life today. Flying fish are all over and I saw a whale blowing water in the distance. We gained another ½ hour; that makes 7 ½ hours.

15 August Sun
Another beautiful day. The Ocean was calm all day again. I saw two ships, the first we've run across. It's good to know somebody else is around besides us. More running and running. The weather is now noticeably warmer, and more humid. Previews of things to come. We are due in the Phillipines on Saturday, where I hope to mail this. However we will not be allowed to get off the ship. We are now 8 hours different in time.

16 August 65 Mon
Hot weather is here to stay! Shirt sleeves are rolled up and no hats are worn…I now have a crew cut again. My head feels light and much cooler. We changed courses today, headed due South direction almost. We had to avoid a typhoon in the Formosa area. Weather quite calm…We will reach the Philippines on Friday I have now been told. Another ½ hour

17 August Tue
Still calm and hot. No ships or fish, except the flying kind. Getting more of a sun tan everyday…One more ½ hour for a total of 9.

18 August Wed
Pulled Officer of the Day all day. Not much sleep tonight. I can tell you our destination. We are headed for Viet Nam as I guess you had already predicted. The exact location is a small seaport called Qui Nhon, about 250 miles north of Saigon. It is still not certain if we will stay there or not. The city is at the east end of Route 19, which I am sure you have been reading about recently. It is possible we will travel 50 miles up Rt 19 to a place called An Kai [Khe]. Both places have air strips in bad need of repair. No time change. Will land in Viet Nam on Monday 23 August.

19 August Thursday
LAND HO! The first land we have seen since Frisco. The sea does not drop off a cliff after all. The Philippines consist of over 700 islands, and we must be passing most of them. I took a picture of a smoldering volcano. We must get off here. Here's hoping!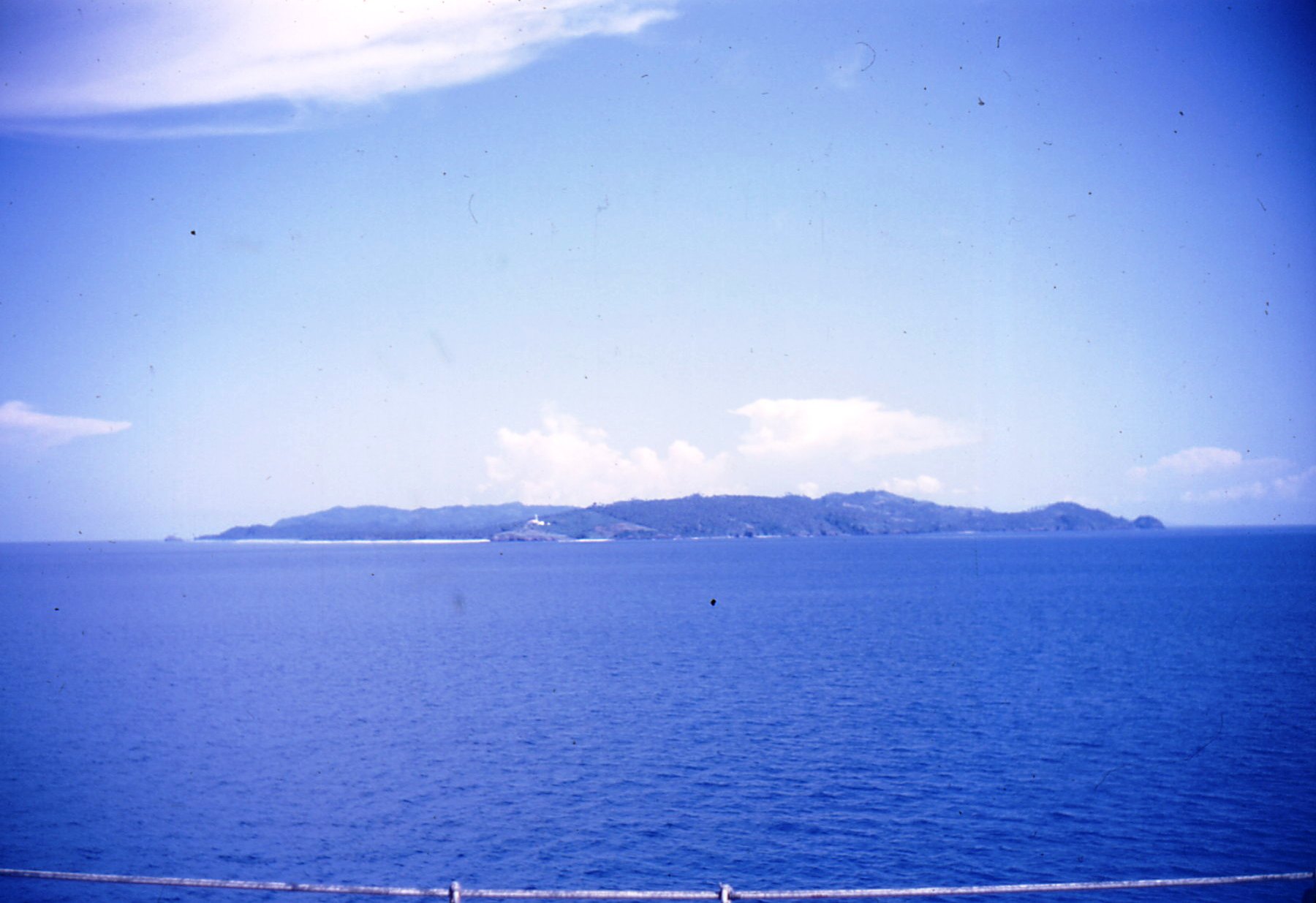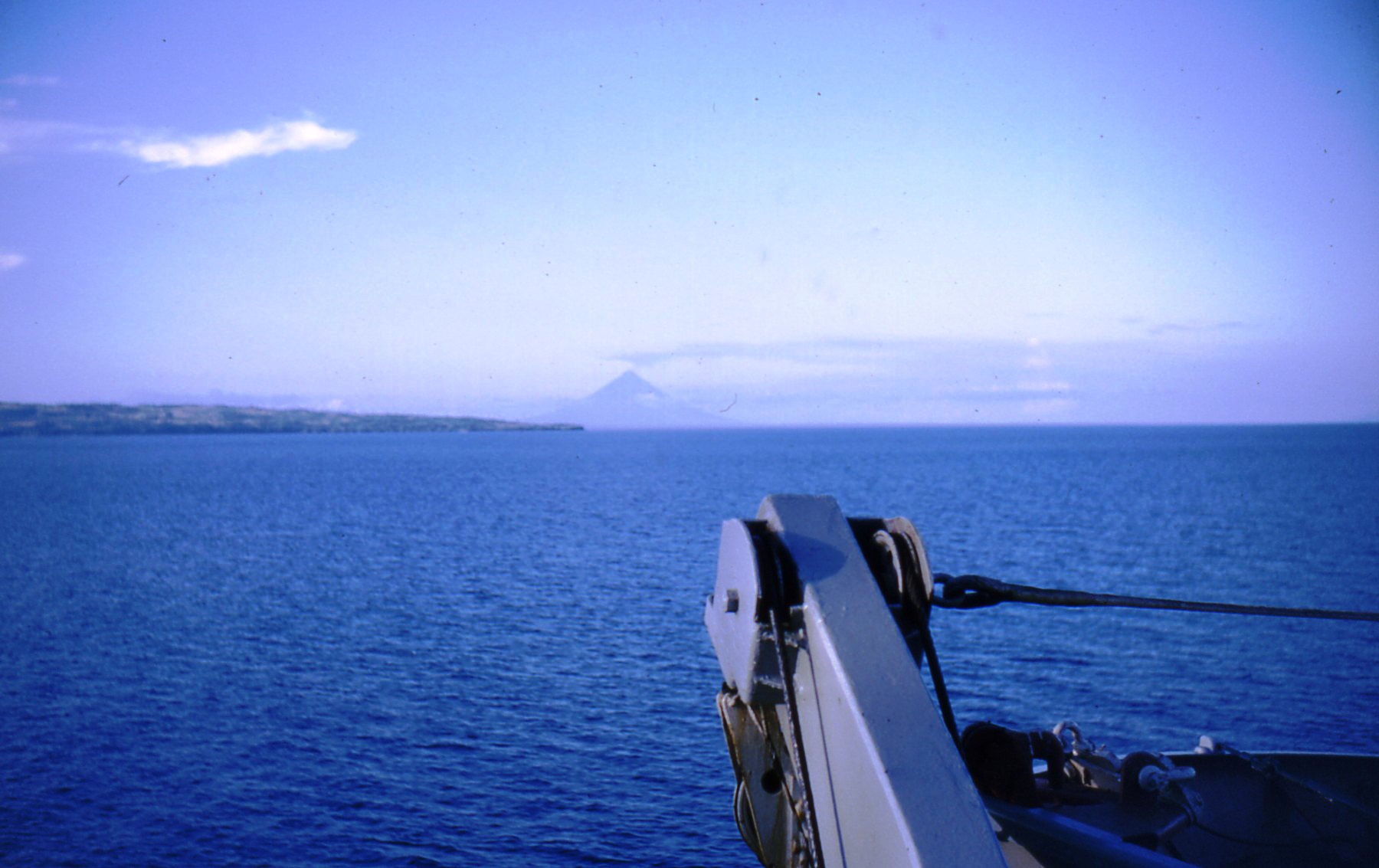 LAND HO! ONE OF THE PHILIPPINE ISLANDS SMOLDERING VOLCANO


17 August 1965
(USS Mann folding postcard)
…the whole trip was very enjoyable except for the heat. Too bad there is no air conditioning!

20 Aug 65 Friday,
We arrived in Subic Bay today and I finished the second roll of film. Included on it is:
1 Oakland-San Francisco Bridge
2-3 Alcatraz in the Bay
4 Me against San Francisco's skyline
5-6-7 Golden Gate Bridge
8-14 Philippines and the ship
15 Volcano with steam coming from it
16 Subic Bay, including an aircraft carrier, an AKA, a destroyer and the two stacker is a ship identical to this one.
I bought a pair of binoculars at the PX for $11.00. Everything is real cheap…I sent a package home today…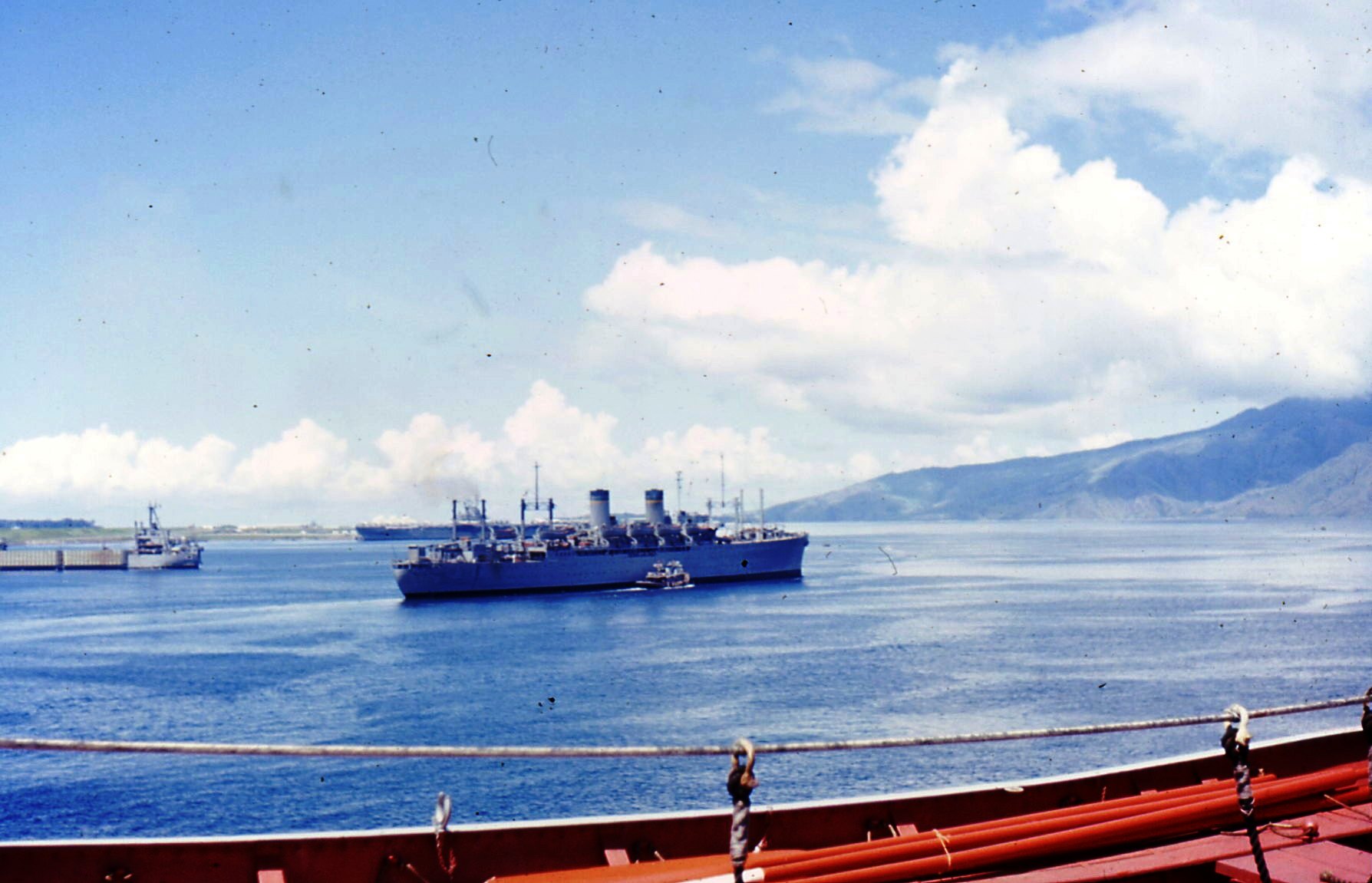 TROOP SHIP LIKE THE USS MANN



21 Aug Sat
We left Subic Bay and began our last leg of the journey. There was a talent show tonight. Still hot.

22 Aug sun
Everyone is doing last minute washing. We are due to arrive at Qui Nhon tomorrow morning. I'll close out today because I suspect I'll be pretty busy the next few days and may not be able to write.
PS The APO is now 96307, I hope.

23 Aug 65
Today was the big day. Everything went very well. We off loaded from our ship onto an LCU, which is a land craft that comes right up to the beach and drops it's front door on the beach. I was the first one off. A Co. was the first company and my platoon (3rd) was the first platoon to hit the beach. Didn't even get my feet wet. We landed at 10:00 am.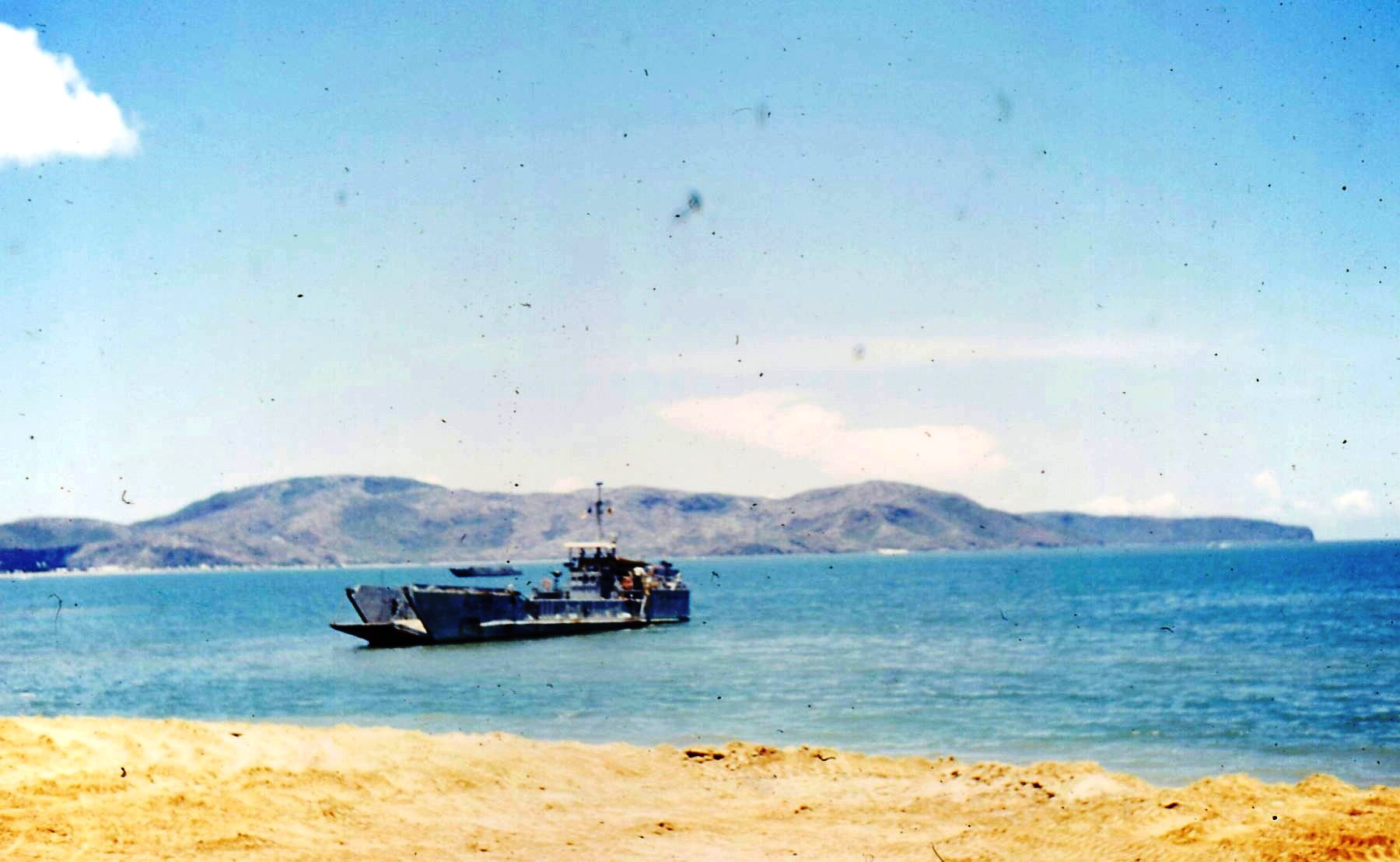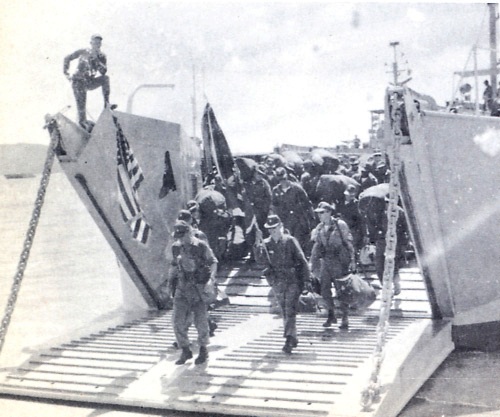 LANDING CRAFT, LCU DISEMBARKING

All our equipment was on the beach when we arrived. It took a while to get it all processed. We left the beach about 2:00 pm and moved to our bivouac area. We are 10 miles from Qui Nhon. What an experience to see this country. The conditions of living are amazing. Most people live in thatched roof, mud wall houses, with little or no furniture. Most Vietnamese in this area looked pleased to see us come.

Letters to Home Part 1, end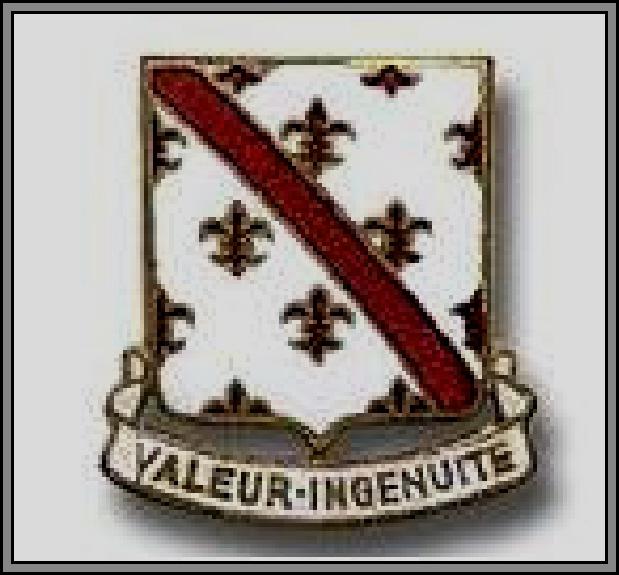 ---

Click on Unit Crest to Return to:
A Company 70th Engineer Vietnam Veterans Index Page


---
---
---
---
---
---
---
---