THE BRIDGE (ALMOST) TOO FAR
by Hamely Wadkins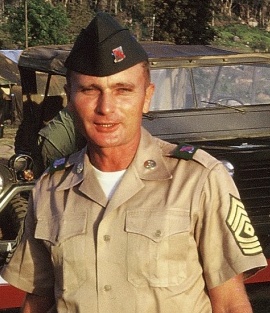 1ST SGT HAMELY WADKINS



In around September 1965, our company received orders to construct a Class 50 Bailey Bridge at the site of a destroyed concrete bridge bypass on Route 19, which had been washed away the second time by floodwaters. This was the main supply route from Qui Nhon port to Pleiku.

Everything went well initially. We got all material and parts on site and got the site laid out. Then it started to rain (again). Then darkness fell and the rain fell until about 3 AM. Then, our men fell! Footing was impossible to maintain on the sloping site. Mud clung to our boots in 25 pound clusters. The panel and transom crews were sliding around like bob sleds!

I recommended to our commander that we delay assembly until daylight and a pause in the rain, otherwise, we would have 100% injuries. And, we still could not use the bridge until we could fill and pack the approach road. He agreed.

I believe every person, colonel and above, in central Vietnam, was on our radio! I was personally manning the radio traffic, off and on, fielding questions. The QUESTION? "WHEN WILL THE BRIDGE BE FINISHED??? I finally had to inform them, as diplomatically as possible, that the "man upstairs" or whoever else controlled the weather, would be the "deciding factor." (or words to that effect.)

The third platoon had already been on their feet over 24 hours and was exhausted. I alerted the second platoon, who had had a night's sleep and was well rested, to be on site at daylight and relieve the third paltoon. It had dried out enough by daylight that we SNAPPED that bridge up in less than one and a half hours with a fresh crew! We had the approach road filled and packed in another half hour. Luckily, we found a dry embankment of suitable road fill nearby. Transportation trucks and trailers were rolling before 0800!

This feat, under these circumstances, deserves great credit. The 3rd platoon was not pleased to be relieved before completing their mission, but it was prudent for safety and humane reasons. The 3rd was awarded the next bridge, a 260 foot double- double bailey, with pier in mid-river which they completed in record time and a professional manner. And, without any injuries. This big job assuaged their feelings, and they did not have to contend with "frog strangling" rains during construction. Nor did they have to contend with "blackouts" and muddy ground.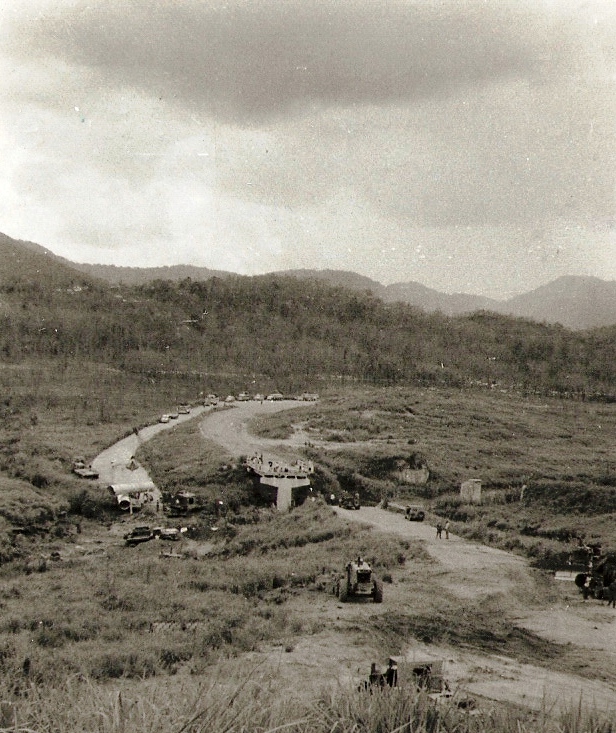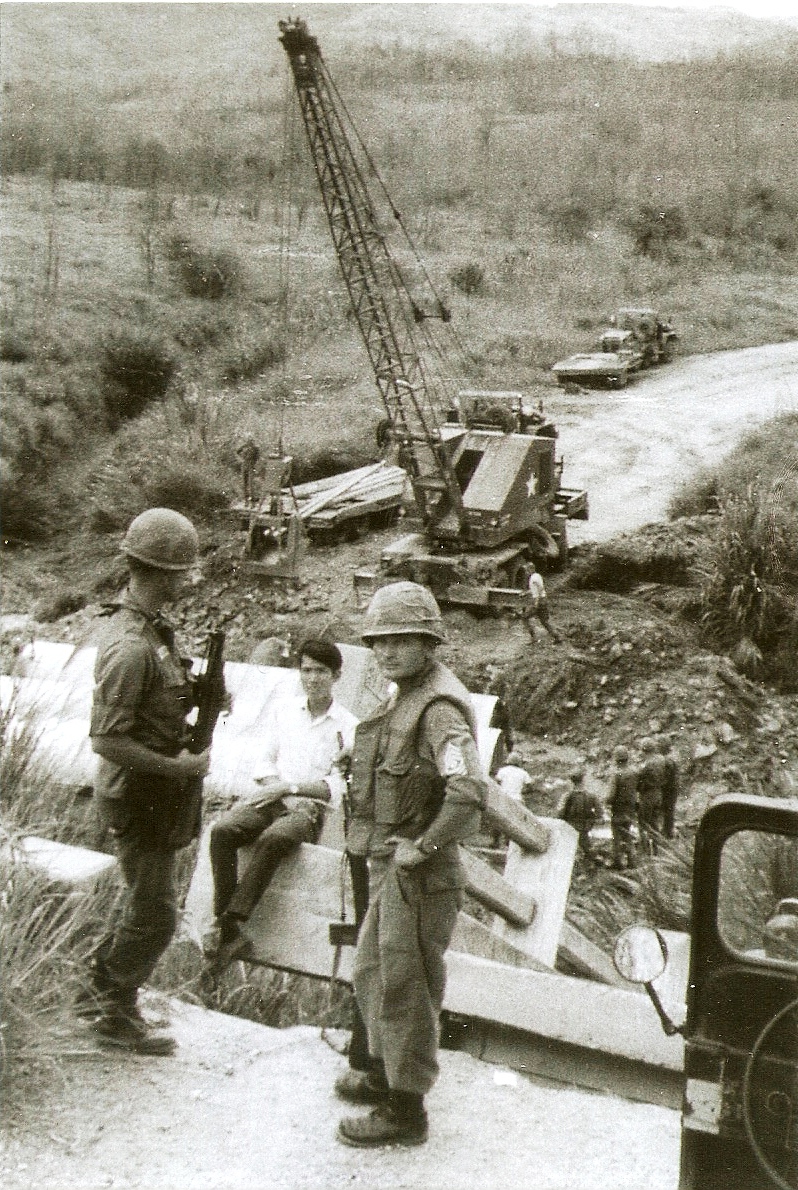 (Left) PHOTO TAKEN AT THE SECOND BYPASS SITE
(Right) INFANTRY SECURITY FOR JOB SITE. HAMELY WITH NEON STRIPES


Note: Hamely stated "I don't have a photo of any activity or of the bridge we put in at this location. But it was most likely an 80 or 90 foot double single. Hopefully someone may have one. This construction and time period was about the worst I had in Vietnam!

Hamely also mentioned on the day we had infantry security, "I replaced those "neon" stripes I had on soon after this trip. I was told that I made the best sniper target on site."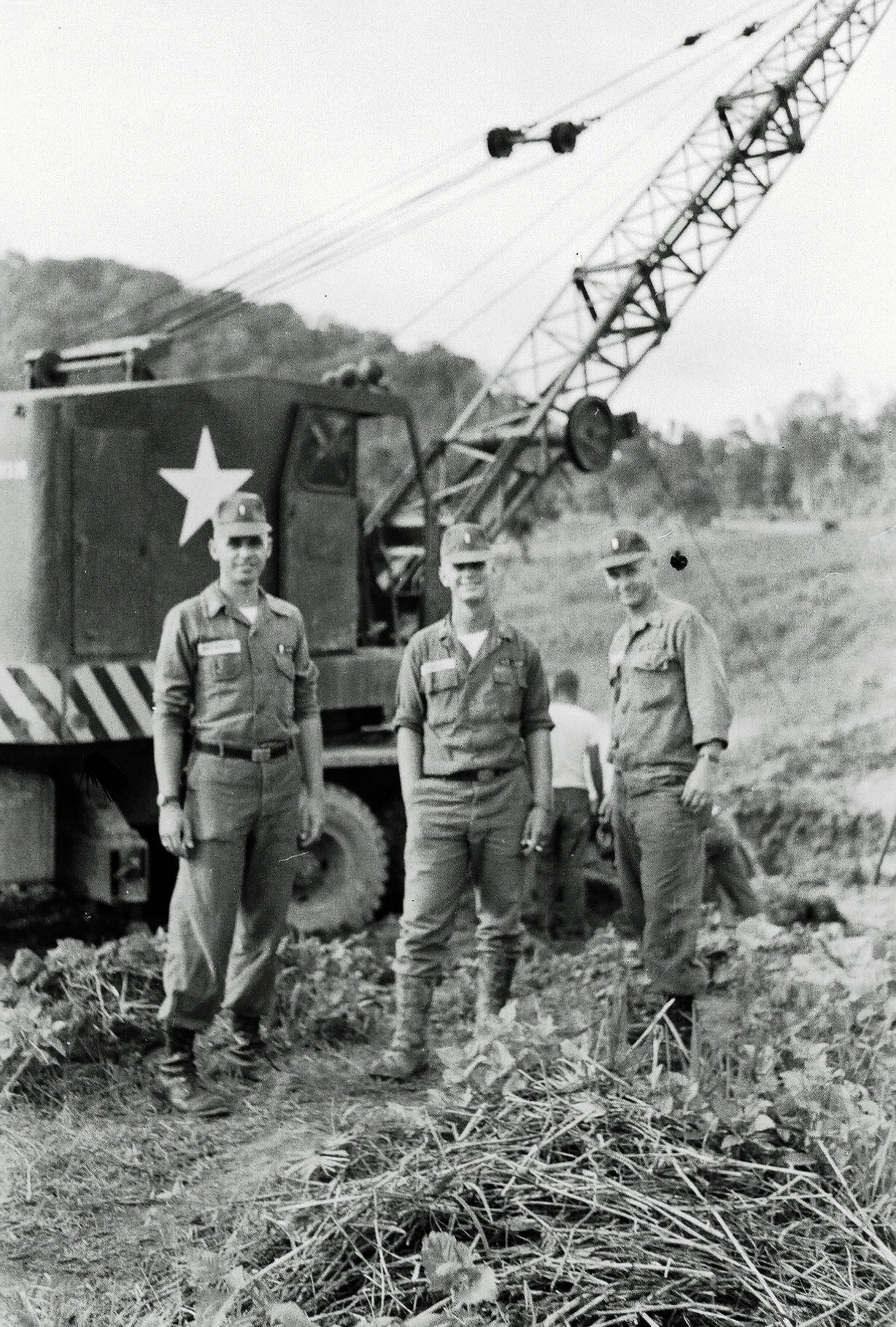 THREE LIEUTENANTS, LARRY HALLSTROM, JOHN COGGINS, ARVIS DENNIS


Lt Hallstrom sent this picture asking, "How many people does it take to run a steam shovel? I think this was at the Bailey bridge site in Hamely's story."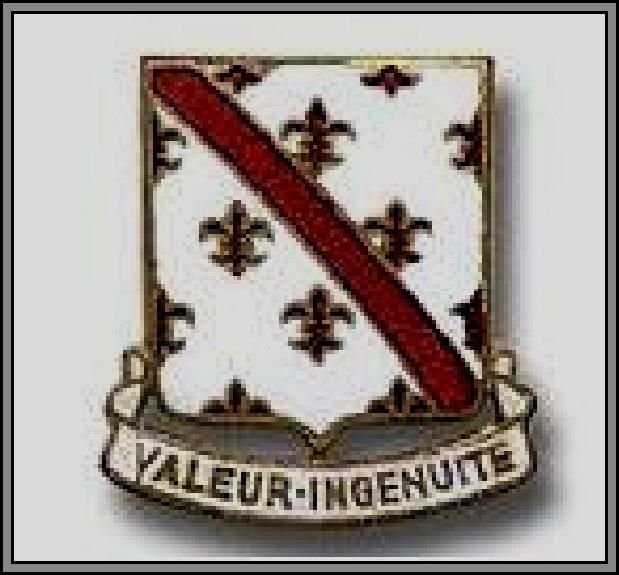 ---

Click on Unit Crest to Return to:
A Company 70th Engineer Vietnam Veterans Index Page


---
---
---
---
---
---
---
---