KEEPING CONNECTED


Article first appearing in the Breeze-Courier, Monday, May 31, 2010.

by Jane Long


Breeze-Courier Writer
SOME BACKGROUND ON THE ARTICLE
I've had the opportunity as Quartermaster of VFW Post 4495 in Taylorville, IL, to work with B/C Writer, Jane Long, on several occasions. Several months ago I approached Jane about an article for publication over the Memorial Day weekend. I knew the "local paper" would be looking for a story about local veterans, and I thought, "why not a story about our website." After contacting Jane, I was certain she would do an excellent job. She showed a real interest in our website and was very enthusiastic about the project. Jane did a great job of describing our website. She spent a lot of time viewing what we have on the site, and took the time to read all the past newsletters we've put out. Of course, since the article was centered around me, I get a lot of "undeserving" press.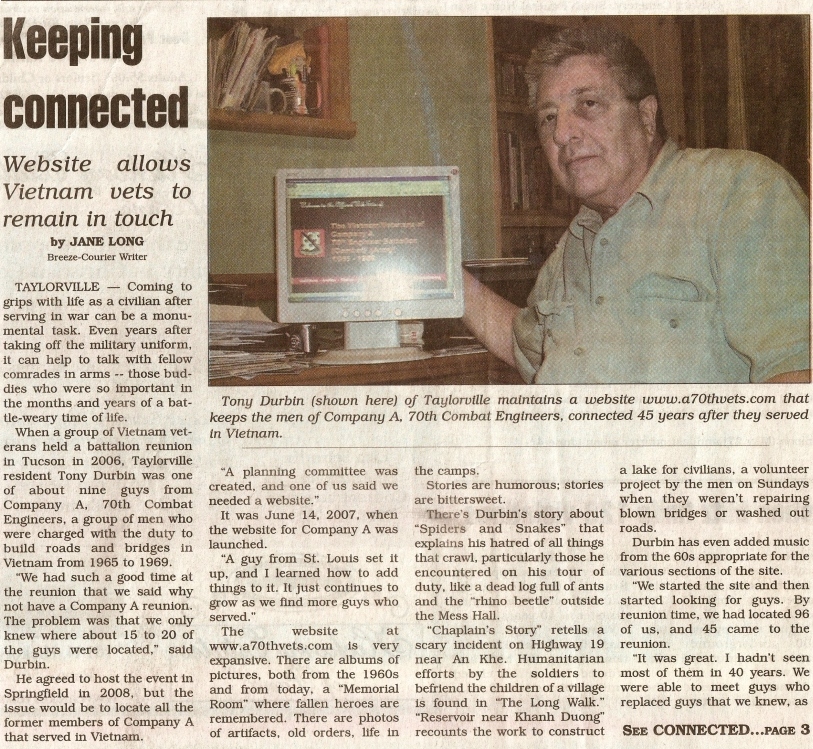 FRONT PAGE OF BREEZE-COURIER, MONDAY, MAY 31, 2010

EXPANDING THE STORY: The "planning committee" consisted of Dennis "Pup" Manders, Jimmy Johnson, Larry Smothers, John Craven, Bob Wear and myself. I was very "excited and surprised" when these gentlemen joined me in Springfield, IL, in May, 2007, to select the location for our reunion. Afterall, they came from Iowa, Wisconsin, southern Illinois, Michigan and Missouri. That's a long way to come for a few hours work.

Without that "guy from St. Louis", we wouldn't have a website. Bob Wear laid the groundwork for our Company A, 70th Engineers' Home Page. He patiently walked me through the steps necessary to construct an article for the website. When Bob had to step away from working on the site for a while, it was because of his "detailed paper trail" that we were able to continue developing the site.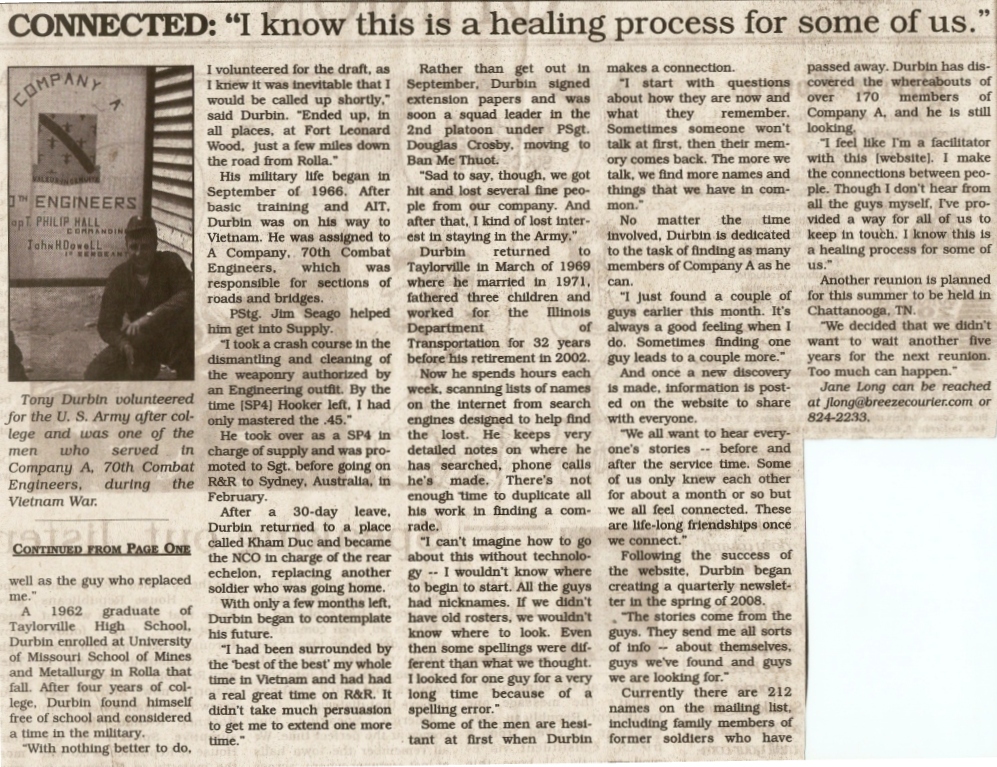 STORY CONTINUED ON PAGE 3


FURTHER EXPLANATION: Let me clarify why I went into the service. After four years at Rolla, I was asked not to return. It seems my grade point average had slipped below a "C", and my "draft status" was now 1A.

After my 30-day leave, I came back to Pleiku. We had moved from the 299th Compound up the road to Engineer Hill, home of Battalion. With the exception of a few of us in support, Company A was in Kham Duc. Try as I may, I never got to Kham Duc. And from what happened there, I'm glad I didn't.

It was at the Reunion in Springfield that we voted to hold a Reunion every two years. Waiting five years for the next one was way too long.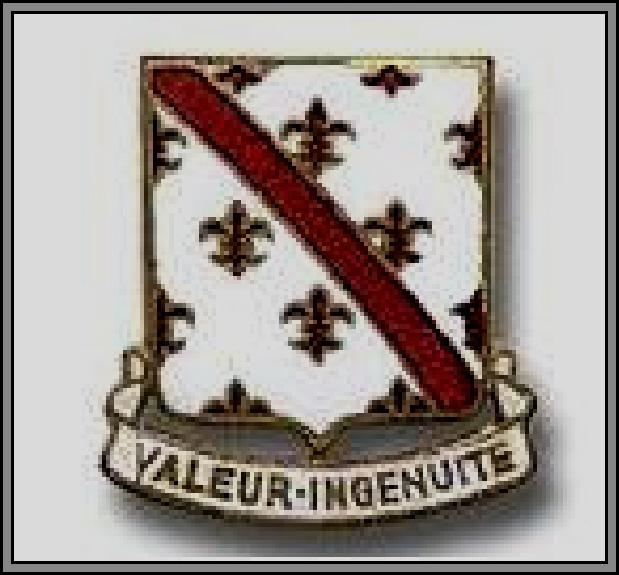 ---

Click on Unit Crest to Return to:
A Company 70th Engineer Vietnam Veterans Index Page


---
---
---
---
---
---
---
---