COMPANY A TO THE RESCUE
by Hamely Wadkins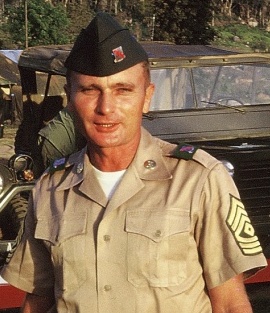 1ST SGT HAMELY WADKINS




In about mid-October, Company A received a "frag" (fragmentary) order to proceed immediately to a village northeast of An Khe and resuce the Catholic population who were being killed by Buddhists. There had been religious strife in this area before.

We dispatched the nearest platoon (third) to respond to this mission. The 3rd Platoon completed the mission but found themselves responsible for about fifty refugees ranging in age from 90 days to 90 years old!

We never did receive the rest of the initial "frag" order. We brought the refugees to An Khe and unloaded them. Then we started rounding up food and water for them. The 1st Cav had tons of captured Viet Cong rice, some of which, we gave them. Company A was forever partially responsible for them after that. Our Mess Sergeant, James Sheppard, gathered up excess food such as: flour, rice, cooking oil and canned goods. He did this on an on going basis from several units.

We also gave them all the cardboard, scrap lumber, sheet metal, etc. that we could find to build shelter. We employed some of them on road maintenance. We had some "local funds" with which we could do this. I hope they are forever grateful to our Company.

This story has two morals:
First, hope that you never receive another "frag" order.
Second, never get mixed up in a "religious war" if you can avoid it.

Our chain of command got us into something and left us in the lurch on "what the hell to do next" after stopping the killing. But we "improvised" and assumed certain things that were never ordered. Our mission was completed with excellent final results, with no thanks given to our organization.

After all these years, I still don't know what HQ originated the order. I have never seen an "after action report" or a "duty officer report." Unfortunately, I don't remember entering this mission on the Company morning report. I usually reported what each platoon had done during the past 24 hours. But these were hectic times! This mission is "another feather" in A Company's Cap... but NO OFFICIAL RECOGNITION will be noted.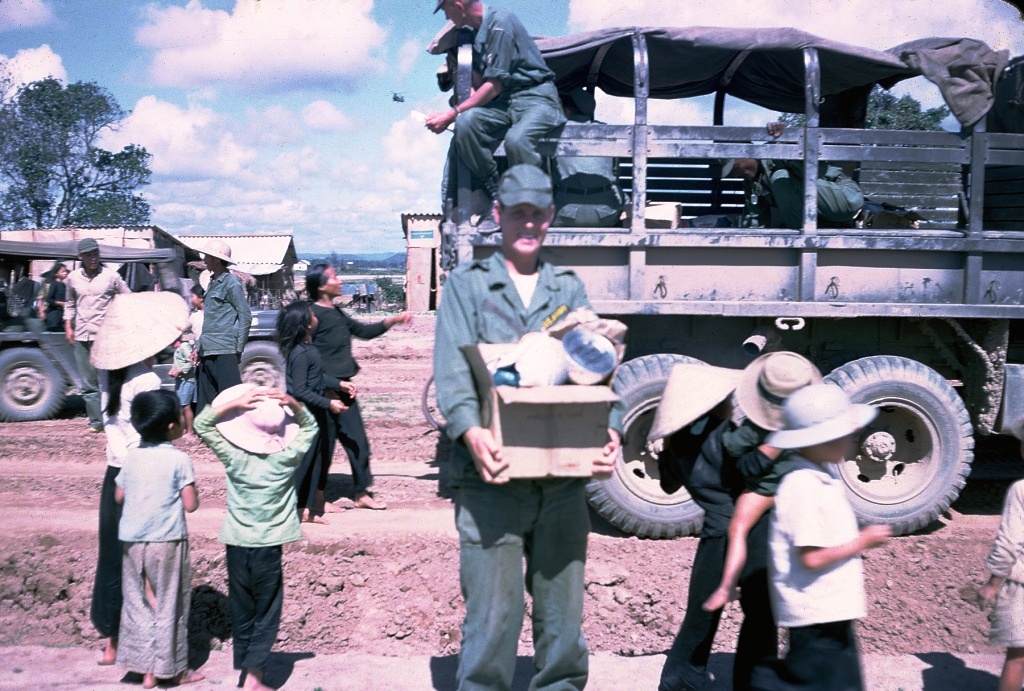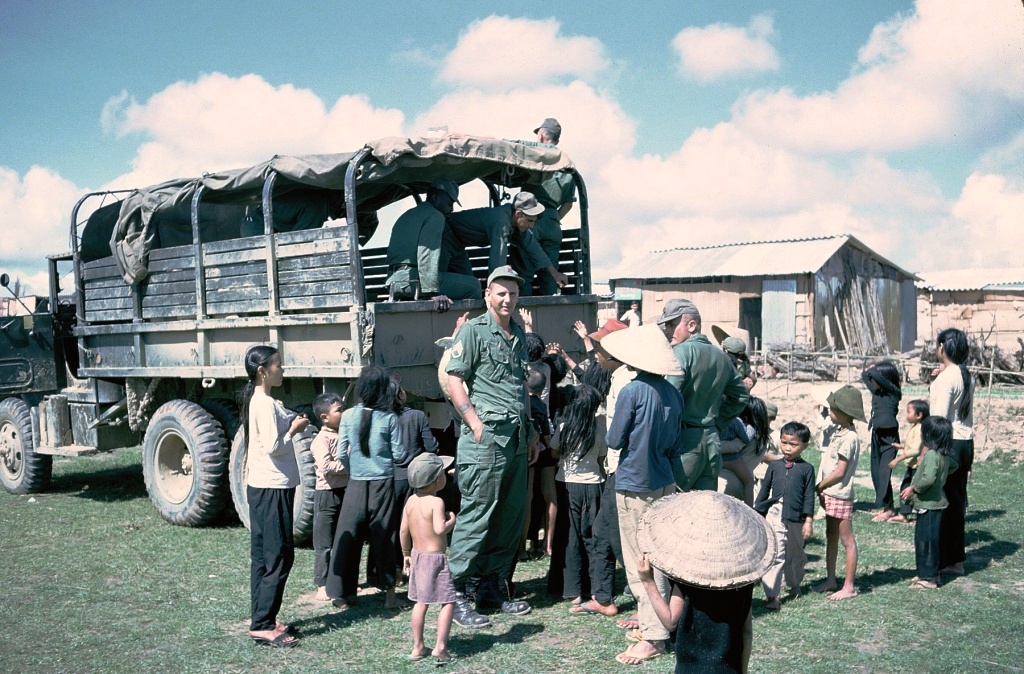 OFF LOADING SUPPLIES AT THE REFUGEE CAMP. SUPPLY SGT JOHN COUCH & 1ST SGT HAMELY WADKINS CONVERSE WITH THE REFUGEES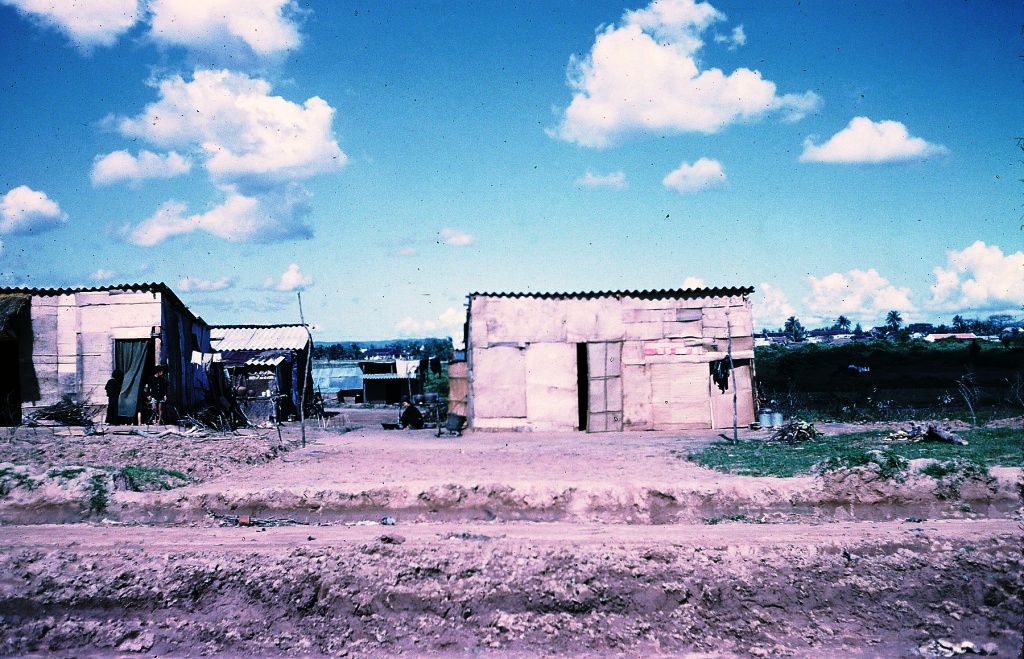 REFUGEES' VILLIAGE. NOTE THE MATERIAL USED. CARDBOARD, TIN, PACKING CRATE LUMBER, ET AL.


The pictures are from John Couch's album. If you can add anymore to this story, please contact us at the email address on our website.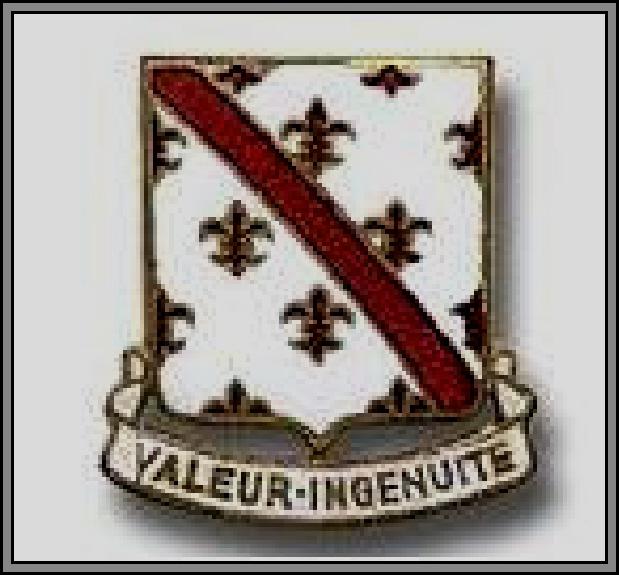 ---

Click on Unit Crest to Return to:
A Company 70th Engineer Vietnam Veterans Index Page


---
---
---
---
---
---
---
---